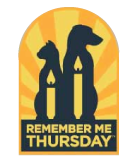 Today September 22nd is Remember Me Thursday.
This is a very important date to remember all of the lost animals that didn't find their forever homes.  Each year, animals are euthanized because they are unwanted.
Today, let's light a candle and keep it going to remember them.  It takes all of us to do our part in making sure animals get as much love as they need and find their forever parents.  Did you adopt your current anipal into their forever home or did they adopt YOU?  Maybe today, lean a paw at your local shelter and/or make a donation to help.
Hold your babies tight today and say a little prayer my friends.  Continue the light and be their voice!  It takes all of us doing our part.  Thanks my friends!