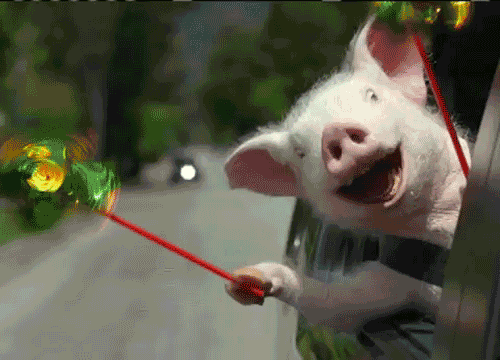 Snorts and oinks friends to a happy and wonderful Friday!  I think my buddy Maxwell says it best in this video clip – bring on the weekend!
So today on this fine Friday, I wanted to ask you an important question.  You see mom and dad were discussing their favorite shows on television last night and it got me to thinking.  Why don't I ask all of you my friends so that maybe we can highlight a show that someone else might want to watch.  Makes sense huh?
So I'm going to start with our three favorite shows to watch here at the Hotel Thompson (in no particular order).
Mountain Monsters – Now this is a show that we didn't watch right off when it came on the Destination American channel.  But one night mom did and she has been hooked every since.  The AIMS team (which stands for Appalachian Investigators of Mysterious Sightings) goes all over looking for monsters in the woods.  AIMS was founded by team members Trapper John Tice, Jeff Headlee and Willy McQuillian.  There is also Buck, Wild Bill and Huckleberry.  Awesome names huh?  They have done shows on everything from the Jersey Devil to the mysterious Bigfoot.
Investigative Discovery – Or as you may know and recognize it – the I.D. Channel.  Anything that is related to murder is on the channel.  And my mom – she considers herself an inspector in trying to figure out the show endings before the television tells you.  It's really interesting to see how people think they can "get away" with murder.  Never a dull moment and trust me, you won't be able to just watch 'one' show and leave.  Oh no, you will be hooked!
Ghost Hunters, Ghost Adventures, Ghost Brothers and Dead Files – Okay I hooked all of these up in one posting because they all deal with the paranormal, the afterlife, the what bumps in the middle of the night and keeps you on your toes kind of television shows.  Mom and dad both love this stuff and yeah I have to admit that it's grown on me.  I'm not as afraid of things in the middle of the night anymore.  Houdini though – he's another story.
So tell me my friends, what are your favorite shows?