My friends – everyone here at the Hotel Thompson wants to take the time today to say thank you.  Anytime you lose a member of your household, you feel lost and out of sorts.  YOU my friends have helped us with this grieving period through your sweet comments, cards, emails and phone calls.  There are times that we still get ready for bed at night and we call for Mouse Girl without thinking… we give our treats and get enough for her without thinking… there are so many things that we have done for over the years that included Mouse Girl that it's hard to let it go overnight.  Today, we wanted to share a few things about our Girl in hopes that everyone sees what a special gal she was and still is watching over us.
In early 200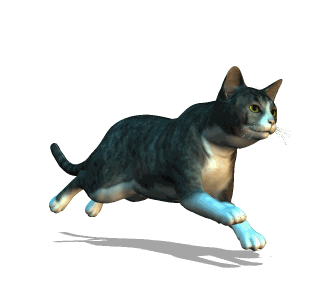 8, Hemi's brother Tybee passed away.  We had gotten Hemi and Tybee from a shelter when they were only 3 weeks old.  We brought them to the doctor, had them tested and bottle fed them until six weeks.  Fast forward three years and Tybee got sick.  We found out that Tybee had feline leukemia and all the testing we originally done was too early for that disease to show.   When he crossed the Rainbow Bridge, not only were we devastated but so was Hemi.  He would through a mourning period as well and wouldn't eat, at times he wouldn't sleep and he meowed for his brother.  In speaking with the vet, they suggested we get Hemi another friend since at that time we didn't have any other anipals in the house.
I called a local animal shelter and made arrangements to meet a Maine Coon named Belinda.  We me and Jim got the shelter, Belinda wanted absolutely.nothing.to.do.with.me.  Can you believe that?  There was just no 'click'.  However where Jim was standing, there was another Maine Coon that was determined to get Jim's attention.  She was meowing to him and grabbing at his arm/shoulder through the crate she was housed.
Every time Jim would walk away, she would cry louder for him to return.  I walked over to her crate and she was trying to reach out for me.  We then got to hold her.  It was like coming home – she felt like she had always been in our arms.  She purred and jumped from me to Jim.  It's true what they say – cats pick their own staff.
But there were other signs that this particular cat was 'the one' to adopt.  When I went to complete the paperwork, I found out this princess's name was Mouse Girl and that she was born the same that my dad had passed away.
Of course, we considered
these all "signs" that we were doing the right thing.  And upon getting Mouse Girl home, it was like she had been there for years.  She knew exactly where the litter boxes were, where the food/water was and where we slept.  It was quite strange.
And Hemi went right up to her, purred and started bathing her.  Two cats that had never met but seemed like they had known each other for years.  What are the odds of that?
They quickly became close buds and even drank from the fountain together – because you know a 'bowl' of water is just too common for them – LOL.
Life went on and although other anipals came to live here at the Hotel Thompson – Bacon and Houdini – Mouse Girl who was affectionately known to us as OMG (Oh Mouse Girl) was our girl… our princess… our baby because she was the only girl for all of these years
And although she was very loving to the other anipals, it took her time to adjust to me and Jim.  Not knowing her past history of when and how she came to the shelter, we picked up real quick that she didn't trust very easily.  But me and Jim stood fast, gave her love and let her adjust according to her schedule.
It took her almost a solid year but she finally started coming to bed with us at night and sleeping at my feet.  And then she would come up to you and touch you with her hand as if to say, "Pet me."
She was a big girl too which Maine Coons often are.  At her prime, she was well over 20 pounds; however, she never pushed her weight around.  If Hemi, Bacon or Houdini came up to her to play, she played.  And although there were times the boys got on her nerves and she had to do was sit on them, she didn't.  They would squabble on one paw and then all of them would cuddle up together and sleep.
So to our beautiful OMG.  We ❤ you with all of our hearts and we thank YOU for picking us as your staff.  You will never be forgotten.
12/19/2008 – 05/08/2016