Happy April Fool's Day my friends.  What?  That's not how it's suppose to go?  Oh, I get it.  I'm suppose to "fool" you into something that you are not aware of.  Oh I see – that's how it works.  Well, since I've already blown that part let me go in another direction.  That would be fun, right?  Nods piggy head – sure it will be.
I will tell you three things.  ONE of them is true.  YOU guess which one.  How's that for an April Fool's Day?  These may be tough so work it out my friends.
---
Statement 1 –
Since mommy loves the Mickey Mouse so much, dad thought he would meet her half way.  He loves the rock group KISS.
So, daddy compromised and got this rocking Mickey Mouse/KISS tattoo this past weekend.  Cool huh?
It looks tough.  It looks cool.  Mommy loves it.  Daddy loves it.  It's a win-win situation.  Don't you think it's groovy?
.
---
Statement 2 –
Oh dear piggy heavens help me – please help me!  Mom and dad are doing a complete renovation here at the Hotel Thompson.  Work started today and should be completed by Friday, April 17, 2015.
We are talking gut work – front room, kitchen and hallway.  Out with all of the old – furniture, carpet and yucky linoleum in the kitchen.  Painted walls, new floors and new furniture – perhaps some other really cool stuff.
All by Friday, April 17, 2015.  Can I come live with you?
---
Statement 3 –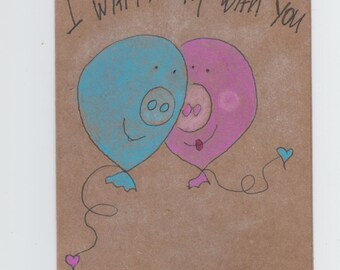 Our next door neighbor is getting a piggy – squeals – I'm going to have a girlfriend for real!  They've talked about it for a while now.
I'm so excited.  I can't wait for you any longer Miss Piggy. 😦
.
.
.
---
There you go my friends.  Three statements – which one is the truth?  Go!